A weekly digital publication called FaithBit:
Bit by bit, week by week, throughout the course of the year we will share faith stories from members of our congregation.
Immanuel members will share their faith stories to encourage, inspire and remind others that God is at work.
Sign up to receive a Monday morning FaithBit! (Or pick up a hard copy from the Welcome Desk).
We'd love to hear what God is doing in your life! Write and share a FaithBit.
FaithBITs will be: emailed on Monday mornings, archived on this page, available on our social media channels and printed and available at the Welcome Desk.
---
May 25, 2020





Pandemic Faith Group
Reflection by Kari Totall
The last time our Faith Group met face to face was February 15, 2020. We had Faith Group scheduled for March, however COVID-19 had other ideas about groups gathering together. We've really missed having intentional time to connect….it has been hard! I was missing our time together and didn't really think about other options to connect.
Last week Tammy Vergeront texted me and said "Hey, let's have a Zoom Faith Group!" Why didn't I think about this option?
Our group met Saturday, May 16th. Highs and lows were shared along with prayer concerns, smiles, love, tears and virtual hugs. We are meant to be in community; to care and love each other!
It's important for us to find new ways to gather in small groups and continue to see each other's faces, as well as support and pray for one another. In our Faith Group alone people have been experiencing job losses, distance learning, long hours at work, isolated family members, sick parents and grandparents, to only name a few of life's challenges!! We have so missed our small group connecting and praying for one another! This support and care for one other is even more important now as we have been sheltering in place.
Faith Group leaders, setting up a Zoom Faith Group is a simple thing to do! Find the date and time that works best for your group and email Kim Rathjen (.(JavaScript must be enabled to view this email address)) she will send you as the Faith Group leader all the info you need to set up a Zoom meeting, forward those details to your group and gather in a new way!! Immanuel has a Zoom membership so no 40-minute time limits on meetings!
After meeting with our Faith Group on Saturday and listening to Pastor Paul's sermon on Sunday I am left with profound feelings of love for my Immanuel family! I miss you all so much. This time will pass, and we will gather again, but until then continue to be intentional about finding new ways to be together! Scripture really reinforced that this week!
1 Corinthians 13:13
And now these three remain: faith, hope and love. But the greatest of these is love.
—————————-
Note: If you're not in a Faith Group but have a group of friends from church that you'd like to connect with, please ask .(JavaScript must be enabled to view this email address) to set you up for a Zoom meeting!
---
May 18, 2020





Rooftop Encounter
Reflection by Alex Paster (Alex, a high school senior, first shared this in February during a youth-led worship)
I believe trust is a significant part of our faith. If we didn't have trust, how would we believe in these quite amazing stories that we hear of in the Bible. But I also believe trust is also the thing that keeps you faithful.
For example, when I went to Mexico through the church, I didn't think I wanted to go. I had always wanted to go to Mexico because my mom is a Spanish teacher and I had always loved the culture and the language. I thought going there for a mission trip would ruin my way of thinking about Mexico and poverty in general. I never wanted to think of such a beautiful country by defining it by what I had seen in those poor cities.
After a while of thinking about the trip, I had said that I didn't want to go. But, my mom had already put us down to go, so I didn't have a choice. And she asked me to trust her in her decision.
Fast forward to the trip. One day, probably the third day, we went to a community named Tultitlan…and that city is garbage. It literally was built on a landfill. The people's houses that were there were either remnants of houses or they were just built out of the trash that was there. So, when we were there, we were working in the building owned by the community that was probably the only free-standing building that they had there. And we were working to try and to take off their roof and make a new one. But the building had a tar roof on it, and you would think it wouldn't be so difficult but all the materials they had were kitchen knives. So, we had to get a tar roof off with some kitchen knives in the Mexican sun and that took a long while to do. But working with us was a kid named Martin. He lived about a half a mile away from where the building was so when we got the opportunity to go and eat lunch with these families, my dad and I chose to go eat with Martin. So, we're walking through and seeing all these houses built out of trash and we come to Martin's house, or lack thereof. It was a shack with half a roof that had some animals in it and a table and some chairs. So, there we ate our lunch. We ate a dish called posole. I don't know if you guys have had that, but that is to this day one of my favorite dishes that I have ever tried.
So, fast forward to today. I believe God sent me and my dad to go see Martín, because that day I figured out that this is what the culture is really about. Culture isn't all about what the country has to offer, it's more about what the country's people have to offer.
I don't think I'll ever forget Martín and his family, because the experience has really shaped who I am in ways I cannot explain. An experience like that is meant to change the way you look at God and all of God's people, and it certainly did for me.
So, I want to challenge you and step out of your comfort zone because you might experience something life changing. Immanuel has all these amazing opportunities, and all you need to do is trust in God.
---
May 11, 2020





Reunited - Faith & Friendship
Reflection by Marc Beyer
(Marc and Eric are pictured both then, and now!)
God sometimes has a funny way of reuniting people.
My dad is a (now retired) Lutheran Pastor. He graduated from Luther Seminary in 1973, and began his first call at Lakeview Lutheran Church in Madison, Wisconsin shortly thereafter.
After arriving at Lakeview, he soon met Rev. Paul Lovestrand. Paul, too, was fresh out of the Seminary, and was serving at a 2-point Lutheran Parish in nearby Marxville, Wisconsin. During Seminary, Paul had served his internship at Lakeview, so Paul had connections to Lakeview as well. This is how my dad and Paul met.
As new pastors, my dad and Paul became fast friends. So, too, did their wives. Paul's son, Eric, was born in 1974, and I was born in 1975. My dad and Paul soon began moving to different churches throughout Wisconsin. But our families remained close friends. We got together as often as we could. Every time we got together it was as if we had never been apart. We always had a great time when we got together. The laughs never stopped. (The first-generation Beyer and Lovestrand families alternate hosting New Year's Eve get-togethers to this day).
The kids got older and life took us in different directions. I eventually settled in Eden Prairie with my family and joined Immanuel. Years later, I learned that Eric and his wife Julie and daughter Ellie had moved to Minnetonka and were looking for a church.
I encouraged Eric to check out Immanuel, and he did. The rest is history! Eric and his family joined the church, and now we see them all the time. We even sometimes perform together musically (Eric in the choir and me with the brass).
What started out as a friendship when we were both in diapers in Madison, Wisconsin continues to this day at Immanuel! Thanks be to God!
---
May 4, 2020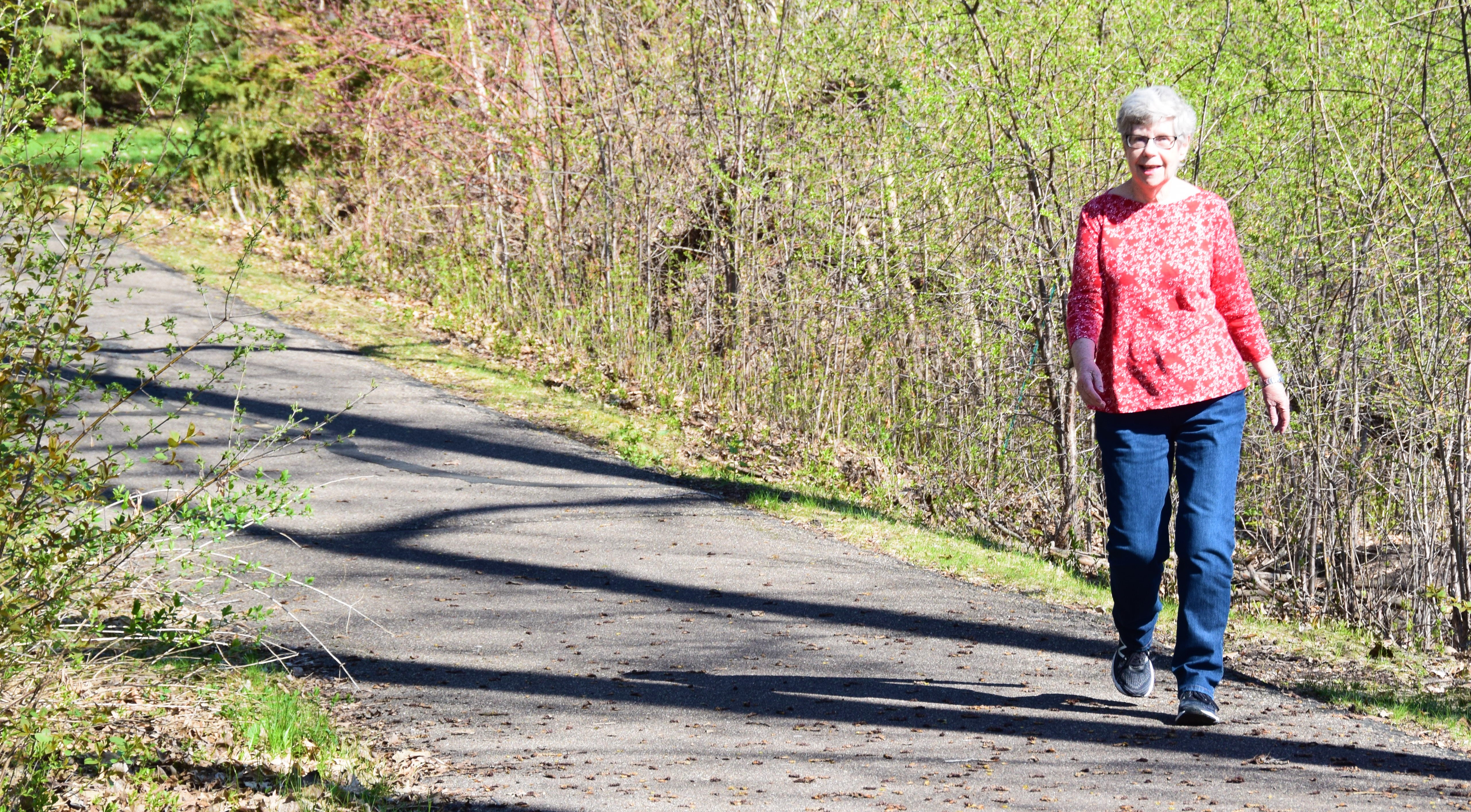 Swooshing with Jesus
Reflection by Jeanne Sundquist
On the subject of prayer-walking, I have been doing it for many, many years. I am not one you would expect to write about religion. I am just a quiet 80-year-old, ordinary wife, mom, grandma, widow, and former hospital worker. But prayer-walking I know well.
As I go out the door, I think "come on Jesus, let's walk and talk" and I can almost feel his robes swooshing.
First, we talk about all my many blessings. Then I ask for my sins to be forgiven, and help being a better, kinder, gentler, more patient person. We go over my long list of all the people I wish to pray for, including Immanuel's prayer request list. I pray for my family to stay well with this terrible disease, especially the two in health care.
Last, I pray for the homeless that they will have a place to lay their heads tonight, for the hungry that they will be fed, for the grieving that they may feel peace. And we say hello to my husband, Jerry, in heaven, reminding him to save me a place.
Then it's home to listen to Pastor Paul's wonderful "Thanks to God" on YouTube every morning.
Now, time for breakfast!!
Editor's Note: After writing her Faithbit, Jeanne later shared (with permission to re-share) that while she loves to go prayer walking outdoors during good weather, she has tripped twice and fallen, each time fracturing her humerous at each shoulder, plus a fractured pelvis, which is why her "bad bones" prefer the flat hallways of her senior living facility. Therefore, be forewarned that this prayer walking might be considered "Risk-Swooshing" with Jesus… so please do so at your own risk! Please do take care and be safe, everyone!
—————————————————————
Walking a lot these days? Interested in the spiritual practice of prayer walking? Connect with us at Prayer Walking for ideas and to be a part of a virtual community of prayer-walkers during this extraordinary time.
---
April 27, 2020





Quarantine Gratitude
Reflection by Deb Herrera
What a weird time we are living in, but I realized I have so much to be thankful for that it brought me to tears. My heart is full.
So, my heart and mind are focused on gratitude. The list is long, but I thought I would focus on the number one on my list.
I am so deeply grateful for this time with my 13-year-old daughter. At a time in her life when she will, no doubt, start to pull away, little by little as she seeks to create her own path in this world.
And here we are with this precious gift of time that I pray for and dream of and reflect upon daily. And here it is. Dropped in my lap - mind you, not in the way I expected or would have orchestrated, but here it is, nonetheless.
I am grateful for the bike rides, the laughter, the long walks to the grocery store, the puzzles we are putting together, the books we are reading together, the movies we are watching, the meals we are making together, the rooms we are painting (her bedroom and bathroom), the cookies we are baking, the letters we are writing, the scavenger hunts we are doing, the errands we are running, the snuggling we are doing, the laughter, and the memories we are making.
So, this was not the plan when I wished and prayed for time with my favorite human, this daughter of mine, who is on the cusp of womanhood yet still with a foot in childhood.
But goodness can come from hardship, which I never could have orchestrated, nestled in the stillness of a quieting world. I am forever grateful for this unexpected depth of time with my favorite human.
I hope and pray that you are all well, healthy and safe.
---
April 20, 2020





No barriers, boundaries or borders
Reflection by Eliana Hanson and Barb Savereide
From Eliana Hanson:
A couple of months ago, I was given the unique privilege of attending a Martin Luther King celebration at Redeemer Lutheran Church in Minneapolis with the rest of Cornerstone Choir. And a unique experience it was indeed—the smaller chapel provided a nice contrast to the spaciousness of our own at Immanuel (as well as splendid acoustics for singing), and to hear so many people give the gift of music and stories was wonderful. The sense of community I felt while singing alongside their congregation showed how God brings people together despite any differences they may have, while at the same time making all of us individual enough as to be wonderfully diverse. Overall, it was an amazing experience that I would highly recommend to anyone interested in learning more about our sister churches in the Twin Cities.
From Barb Savereide:
Eliana's message conveys our experience so very well. And as I reflect back on that experience during this unique time of dealing with COVID-19, I am reminded of the underlying truth that God's love flows endlessly to all people. There are no barriers, borders, or boundaries stopping God's love from reaching all corners of the world. We are all connected and living in community enveloped in the grace and boundless love of God.
As you contemplate our current situation, think about the community we share with the whole world. God's love is all around us with no checkpoints or security clearances. As one great hymn tells us, "In Christ there is no east or west, in him no south or north, but one great fellowship of love throughout the whole wide earth." COVID-19 will fade away, but God's love is here to stay…for you, for me, for all.
Archive of the current year
May 18, 2020: Rooftop Encounter by Alex Paster
May 11, 2020: Reunited-Faith and Friendship by Marc Beyer
May 4, 2020: Swooshing with Jesus by Jeanne Sundquist
April 27, 2020: Quarantine Gratitude by Deb Herrera
April 20, 2020: No Barriers, Boundaries, or Borders by Eliana Hanson and Barb Savereide
April 13, 2020: Light in the Darkness by Norah Bracke
April 6, 2020: Unexpected Blessings by Cindy Paulson
March 30, 2020: The Sanctuary Was Empty by Lori Hanken
March 20, 2020: Peace…like a superpower by Tony Szczepaniak
March 13, 2020: Food Insecurity in Eden Prairie by Cari Larsen
March 6, 2020: The Seven Last Words of Christ by Diane Johnson
February 28, 2020, Behind the Scenes by Pastor Angela
February 21, 2020: Acts of Service by Kari Totall
February 14, 2020: Live in the Moment by Nora Fairbanks
February 7, 2020: Dear God…7th Graders' Prayers
January 31, 2020: Front Row Church Buddy by Glen Person and Sara Koepp
January 24, 2020: I Have Cancer by Dave Nieting
January 17, 2020: Experiencing God through Service and Music by Hope Anderson
January 10, 2020: Everyday Faith - From Hand to Hand by Pastor Angela
January 3, 2020: Following Jesus in the New Year by Martin Rathjen
Archived FaithBITs from Previous Years